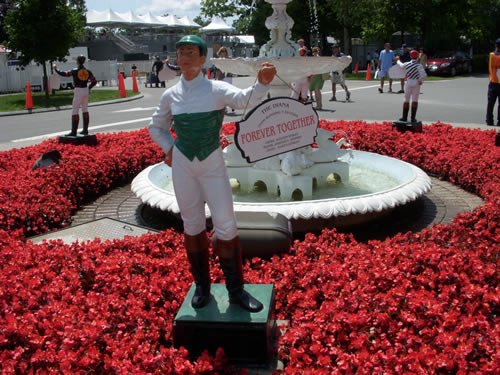 I've been at both of Forever Together's winning Diana's and both were impressive. Moronic planning is keeping me from personally attending this year's rendition, but I'll watching and rooting (but playing a win a bet on Shared Account, who I think really has a shot… see, one can be a gambler and a fan!).
It should be noted in the work prior to last year's victory Forever Together worked a gaudy 57H! Looking at her current works makes me think that today is the day she'll break her losing snap (and yes, I'll also have a sizable exacta of Forever Together over Shared Account… see Kevin's excellent post on Playing Favorites at Hello Race Fans!).
Here's the champ (I'll always call her that, even if she's not a reigning a champ this year) after last year's Diana. I love how pleased her groom was and the crowd really cheered as she walked by, it was a great moment.
And now the replays…
2009 Diana Stakes Replay
2008 Diana Stakes Replay
Even though we're not together this year, I hope the champ gets her third Diana, a race I will always think of as hers.
Update: Forever Together put in her usual classy effort but got third in a head bob to Proviso and Shared Account.