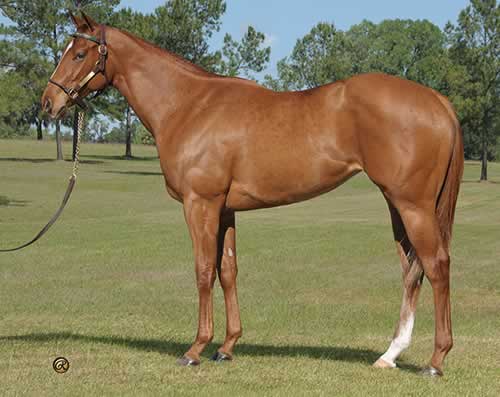 Encore Saritta, my 2009 fantasy ownership pick (West Point Thoroughbreds)
Every year (ok, starting last year) I pick a couple of West Point Thoroughbred offerings sort of as a "fantasy ownership" situation. I can't swing the kind of dough necessary to buy in to their partnerships (or any for that matter) so I live vicariously and "practice" the art of the biggest wager in horse racing, ownership.
Last year I did alright, I liked Macho Again (great pick!) and Erin's Golden Star (who? she's a solid allowance level horse based at Philly Park).
Since I have yet to learn anything about pedigrees I used a skill I've been honing all year to make my selection, looking at them. This year I have only one pick and it's Encore Saritta. I wanted to get this post about before she debuted, but Swifty can attest that she was my pick prior to her debut and win.
I kept searching for her to add to my DRF horse watch but some how missed her. I was alerted to her debut after the fact by Blood Horse's nifty race results twitter feed.
You can see her debut race here, courtesy of Blood Horse's also nifty domestic race replay section.
According to West Point's site:
Under Robby Albarado, the speedy chestnut filly broke alertly and dueled on the lead down the backstretch under quick fractions of 21.75 and 45.35. At the top of the stretch, she opened a four length lead. After a few green strides in the stretch and several heart-pounding moments for the West Point team, the black and gold crossed the wire first. Encore Saritta stopped the teletimer in a solid 58.17 seconds.
Game doesn't even begin to describe it as she battled through those fractions and pulled away but the green part was pretty hilarious. Needless to say I was annoyed that she paid $22 and I missed it, but I'm totally looking forward to seeing how my fantasy ownership selection plays out. Go Encore Saritta!