Papi Chullo in his return at the Big A in November (Ernie Munick)
Google has been indicating to me that people want to know what happened to GbG fav Papi Chullo. I even got an email from a concerned fan over the weekend wondering if I knew anything about what happened to him. Rest assured Papi fans, he seems to be doing well.
Some of you may remember that Papi Chullo made a return in the fall at the Big A in a starter handicap. It was all downhill from there from there as he ended up dropping through the claiming ranks ultimately to be sold to stud. Until now the details were a bit murky but as it turns out Papi landed in Jamaica in Mammee Ridge Farms.
Prior to his retirement there was a valiant effort at Ernie Munick's Thoroughbred Racing in New York (TRNY) group at Facebook to raise the money to claim him. Ernie posted a shot of Papi and people started chiming in and spontaneously offering to kick in some money to claim him. We figured if every member was willing to donate $32 we could raise the money.
We were well on our way to having the funds raised and member Maggi Moss stepped up and offered to contact the current owner and try to buy him. She didn't haven't any luck with the owners but they did agree to sell him to stud, although it was never announced where. His profile on Pedigree Query was only recently updated with the farm location, so the mystery is now over!
As fellow Papi fan Jessica commented to me in an email:
Papi's in Jamaica? What a life he's had … Derby contender, claimer, Caribbean stud. Think they're welcoming visitors?
If you're planning a Jamaica trip any time in the near future you may want to contact to his new home to arrange for visit!
Here's a shot of him chillaxin at his new job.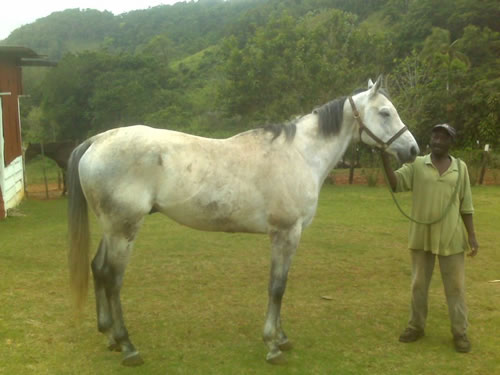 No doubt they'll be little Papi's running around here in a few years! Hopefully he's doing well.